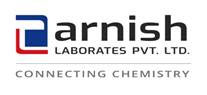 About Us
Karan Laborates
has recently been established as a dedicated
Chemical manufacturer, exporter and supplier
in
2015
. Aiming to compete with counterparts leading the domain since years, we provide cost effective, reliable and productive chemical solutions. Our spectrum encompassing
Alcian Blue 8Gx, Bathocuproine, A-Naphtholphthanlein, Bromo Pyrogallol Red, Tetraxolium, Neocuproine, etc.
are acknowledged for their
immense
solubility, reactivity towards other chemicals, longer shelf life and consistent composition
. We have satisfied many clients on the basis of our chemical products quality and reasonable rates.
Quality is a prime factor of our chemical products and is strictly adhered to at each stage of processing. Our team of expert scientists, chemists, quality inspectors, etc. work in coordination amongst each other to provide quality results for our clients. We have developed a sophisticated processing facility, a chemical laboratory, packaging unit, spacious storage and wide distribution network. A streamlined work flow within all these departments ensure timely fulfillment of consignments and completely satisfied clientele.
Products We Offer

We are manufacturing, supplying & exporting a broad spectrum of Chemicals. Some of our products are enlisted below:
A-Naphtholphthanlein
Acridine Orange HCL Hydrate
Bathocuproine
Blue Tetrazolium
Cresyl Voilet Acetate
Dithizone 85%
Iodo Nitro
Tetraxolium
Neocuproine HCL
Par Indicator
Pyrocatechol Voilet
Pyronin Y
Quality Assurance

Manufactured using finest quality raw salts, powders and various other raw materials, our customer products encompass high grade quality. We have recruited a team of expert chemists, scientists, quality inspectors, researchers, etc. who adhere to the standards of international quality while the entire process of chemical production. Various parameters underlined by them to quality check our final range of Pan Indicator, Neocuproine, Pyrogallol Red, etc. are as following:
Composition
Contents
Solubility
Reactivity
Shelf Life
Manufacturing & Packaging

Our company is backed by the support of a sophisticated infrastructural facility featuring a laboratory, procurement unit, packaging department and storage. The bulk raw materials are utilized and processed using tools, equipment and modern technologies installed at our sophisticated laboratory. Our packaging unit is employed with skilled professionals who understand the usage of correct material for packing purposes. Further, customized packaging is performed using eco-friendly material that keeps the physical and chemical properties of contents intact and prevents the material from leakage.
Warehousing & Delivery

Having installed a streamlined facility for warehousing, our company ensures confusion free storage of raw materials and finished chemicals as per their categories. We have well-labeled compartments to store our products. This enables our storekeepers to compile all the orders easily for their prompt dispatch. Additionally, our well-spread distribution network ensures prompt deliveries to our globally spread clientele within committed time frames.